FIELD TRIPS
Debris flows in Rocky Mountain National Park (1 day)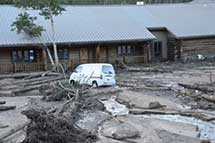 This 1-day trip will tour high-elevation debris flows in and near Rocky Mountain National Park. The tour will focus on an unusually large number of debris flows from a prolonged rainstorm in September 2013.
Debris flows in Chalk Creek Valley (2 days)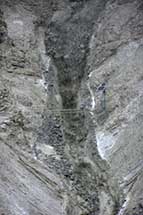 This 2-day trip will visit the Chalk Creek Valley in the heart of the Colorado Rocky Mountains. This valley has the highest observed frequency of debris flows in the state. The tour will include a hike to the debris-flow monitoring site at Chalk Cliffs. The trip will include an overnight stay at the Mount Princeton Hot Springs Resort, located near the base of the Cliffs.